Gluten-Free Brie Blackberry Jam Tartlets are the perfect bite-sized appetizer! Flaky buttery gluten-free pastry shells filled with melted creamy brie, and blackberry jam, and garnished with fresh blackberries.
Why you will love this recipe
There's just something about a bite-sized appetizer that makes entertaining look so elegant. These miniature jam tarts look like something you'd be served at a high-end restaurant or even at a wedding. Not to mention they are super cute!
The taste of a fresh juicy blackberry met with sweet blackberry jam, and creamy melty brie, held together by a flaky buttery tartlet shell, makes for quite the experience.
We love to serve these during the holiday season along with champagne and bacon-wrapped dates.
Jump to:
I

ngredients
Blackberry Jam: The blackberry jam adds a touch of sweetness. Here is one of our favorite blackberry jams to use.
Brie: Creamy melty brie pairs lovely with this blackberry jam.
Blackberries: Look for fresh blackberries that are smaller in size. For larger blackberries, cut in half prior to use.
Thyme: Optional, but serves as a beautiful garnish. You can also add some fresh thyme to your serving tray if not directly onto the tartlets.
Gluten-Free Tartlet Shells: Use my gluten-free mini tartlet shell recipe. It is made up of unsalted butter, sour cream gluten-free flour, baking powder, salt, and ice-cold water.
How to make
Preheat the oven to 400° F.
Follow the instruction for mini tartlet shells.
Bake the shells for 10 minutes and remove them from the oven. The pastry may be slightly puffy but will shrink down while resting. You can also use the back of a knife to slightly push down the middle.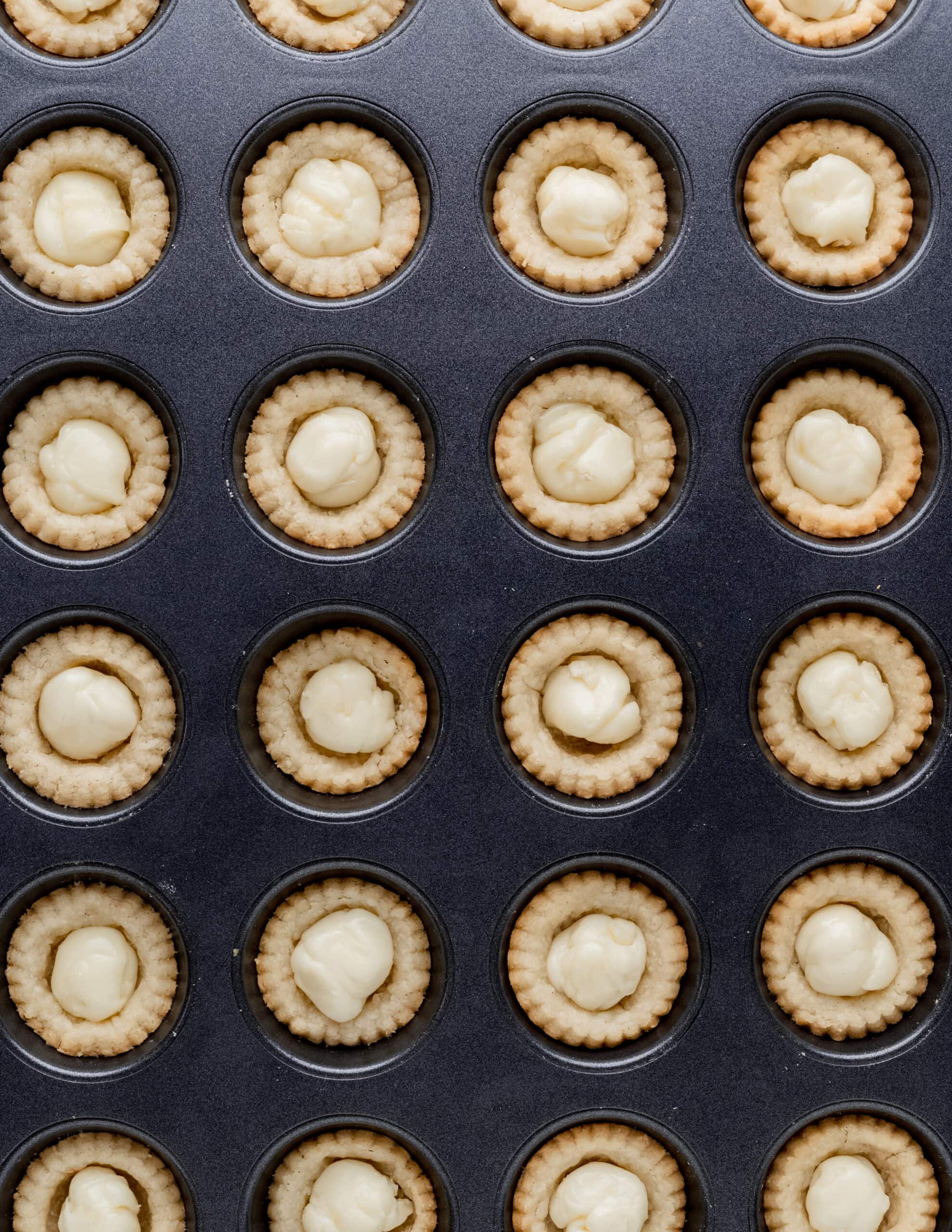 Cut the rind off the wheel of brie. Measure out 1 teaspoon or 3 grams of brie, adding it to the center of each tartlet. I use a food scale for accuracy.
Place the tarts back into the oven for 5-7 minutes, or until the brie is melted.
Remove the mini muffin pan from the oven and carefully transfer the tarts to a tray. Let the cheese cool for 5 minutes.
Add a small spoonful of blackberry jam on top of the melted brie and top with a fresh blackberry.
Serving Suggestions
These tartlets make a lovely appetizer on any party spread and go perfectly with a glass of champagne or white wine. We love adding them to charcuterie boards, which adds an unexpected treat.

Storage
It is not recommended to bake these mini brie tarts ahead of time. They are best served fresh on the same day. Leftovers can be stored in a tightly sealed container for up to 2 days, but the texture of the tartlet shells will become more firm and the jam will start to separate.
FAQ
Do you take the rind off of the brie before baking?
Although the rind is edible, it is recommended to remove it prior to baking. If there's a tiny bit of rind that you can not remove, that is ok.
Can I prep these tartlets in advance?
You can prepare the unbaked tart shell dough 1 day prior. These tartlets are best served and prepared the same day.
What jam goes with brie?
Other jam options include fig jam, raspberry jam, cherry jam, or apricot jam. You can adjust any flavor and swap out the fruit as desired.
What are tartlets?
An individual miniature tart pastry shell with a filling of fruit such as lemon curd, melted cheese, cream, or any other mixture.
Recipe
Gluten-Free Brie Blackberry Jam Tarts
Gluten-Free Brie Blackberry Jam Tarts are the perfect bite-sized appetizer! Flaky buttery gluten-free pastry shells filled with melted creamy brie, and blackberry jam, and garnished with fresh blackberries.
Ingredients
28

gluten-free mini tartlet shells
Filling
8

ounce

brie, rind removed

⅓

cup

blackberry jam

28

blackberries, fresh

fresh thyme, optional
Instructions
Make the tartlet shells (click for instructions)
Preheat the oven to 400°F. Bake the tartlet shells as directed. Remove from the oven and set the mini muffin pan aside.
Add the filling to the tartlets
Remove the rind from the brie. With a food scale, measure 3 grams of brie, or ½ a teaspoon. Place each chunk of brie inside the prebaked tartlet shells.

Once all the shells are filled, place the mini muffin pan back in the oven and bake for 5-7 minutes, or until the cheese is fully melted.

Remove the pan from the oven.

Carefully transfer the tarts to a tray and allow the cheese to cool for 5 minutes before adding the jam. Once the tarts have cooled, finish them with half a teaspoon of blackberry jam on top of the brie, and garnish with a fresh blackberry. Serve.
Notes
Tartlet Shell Recipe:
You are going to love this flaky, buttery gluten-free tartlet shell recipe. Make sure to prebake the shells prior to adding the cheese. 
Measure The Cheese: 3 grams or ½ teaspoon
Make sure you do not overfill the tartlets with cheese, otherwise you risk the tarts from overflowing and you will not be able to add the jam.
Remove The Rind: 
Keep the brie in the refrigerator until ready to use. Stand the brie on its side and use a serrated knife to slice both circular ends and sides off of the brie. Once you've made the cut, use your fingers to remove the rind. 
Fresh Berries:
Use fresh berries and cut them in half if needed, prior to assembling. 
Nutrition
Serving:
1
tart
Calories:
106
kcal
Carbohydrates:
9
g
Protein:
3
g
Fat:
6
g
Saturated Fat:
3
g
Polyunsaturated Fat:
0.1
g
Monounsaturated Fat:
1
g
Cholesterol:
11
mg
Sodium:
92
mg
Potassium:
19
mg
Fiber:
1
g
Sugar:
3
g
Vitamin A:
52
IU
Vitamin C:
1
mg
Calcium:
16
mg
Iron:
1
mg
Pin Recipe
Did You Make This Recipe?
Share your recipe photos with me @rebecca.taig
Did You Enjoy This Recipe?
Please give it a star rating in the comments below. Thank you!