Today I am sharing how I decorated our Elegant White and Gold Christmas Tree. Included in this post is a Christmas tree ornament, ribbon, and pick calculator to help easily guide you while decorating your own tree, just like a pro.
Christmas is my favorite time of year and there's nothing I look forward to more than decorating the tree. This is our first Christmas in our new home with vaulted ceilings in the foyer, making it the perfect place for our show-stopping 12-foot tree. I stuck to my favorite neutral color scheme, white and gold, which pairs lovely with the rest of our home decor. This tree is filled with elegant and timeless ornaments to use for years to come.
O Christmas tree, O Christmas tree, Such pleasure do you bring me.
Decorating a tree of this stature can seem intimidating, but below I have listed several guides to help bring your vision to life. You can use these guides for years to come, making decorating your tree effortless!
Jump to:
SELECTING THE PERFECT CHRISTMAS TREE
Our gorgeous Christmas tree is the 12' Queen Fock Slim Artificial Tree with 1200 Warm White LED Lights.
What I love about this tree is that it's easy to assemble, the flocking never sheds, the lights are pre-strung, and the branches look so realistic.
Any of their trees would be a great investment for your home.
HOW TO DECORATE YOUR CHRISTMAS TREE LIKE A PRO
FLUFF & SHAPE YOUR TREE
After assembling your tree you want to fluff and shape the branches in the direction they naturally face. Starting at the base of the tree, fluff the inner branches and work your way outward. This may take a bit of time but it's an essential part of the decorating process to create a full look. Remember to wear gloves to help protect your arms and hands.
FUR RIBBON
After fluffing the branches, one of my favorite ways to add volume to the tree is to layer sections of fur ribbon to the center from bottom to top. This helps bulk up the tree, avoiding seeing the middle, and creates a beautiful snowy-like texture. You do not have to layer every branch, but instead, stagger pieces throughout. I use around 8 rolls for this 12-foot tree.
ORNAMENTS
Decorating a tree of this stature involves using a ton of ornaments of various shapes and sizes. For larger trees, you'll need at least 15-20 large ornaments to fill out the base, and for the majority of the rest, you will use medium-sized ornaments with a sprinkle of small ornaments throughout. Refer to my "Christmas Tree Ornament's and Pick's Calculator" below for the specific amount of ornaments and picks you will need for your specific size tree.
My tree is 12 feet tall so I use about 180 - 200 ornaments because I prefer a fuller look.
For my tree I use…
15-20 Large Ornaments
125-150 Medium Ornaments
40-50 Small Ornaments
FLORALS AND PICKS
Florals and picks are my favorite accessory. They make a tree look so elegant and help fill in any gaps. On our 12-foot tree, we used a variety of florals including white magnolias, and white, silver, and gold poinsettias. I used in total about 8 different varieties of picks and florals, which help add volume, texture, and a pop of color to the tree.
DECORATIVE RIBBON
Once the tree is fully decorated I add a decorative ribbon as a last step. This is the opposite of how most people decorate their tree, but adding it at the end allows the ribbon to be more viable as it won't be weighed down by the ornaments. It's also another way to fill in any last-minute gaps. You won't need much of the decorative ribbon, therefore you could always splurge for higher quality. I use around 1-2 rolls for this size tree.
TREE TOPPER
For the last several years I have made my own tree topper using picks. Depending on the size, you want anywhere from 6-12 large picks. Here is a list of my favorite traditional tree toppers.
TREE SKIRT
A snowy white fur-like tree skirt gives a neutral base with texture. This will be a timeless piece to use for years to come.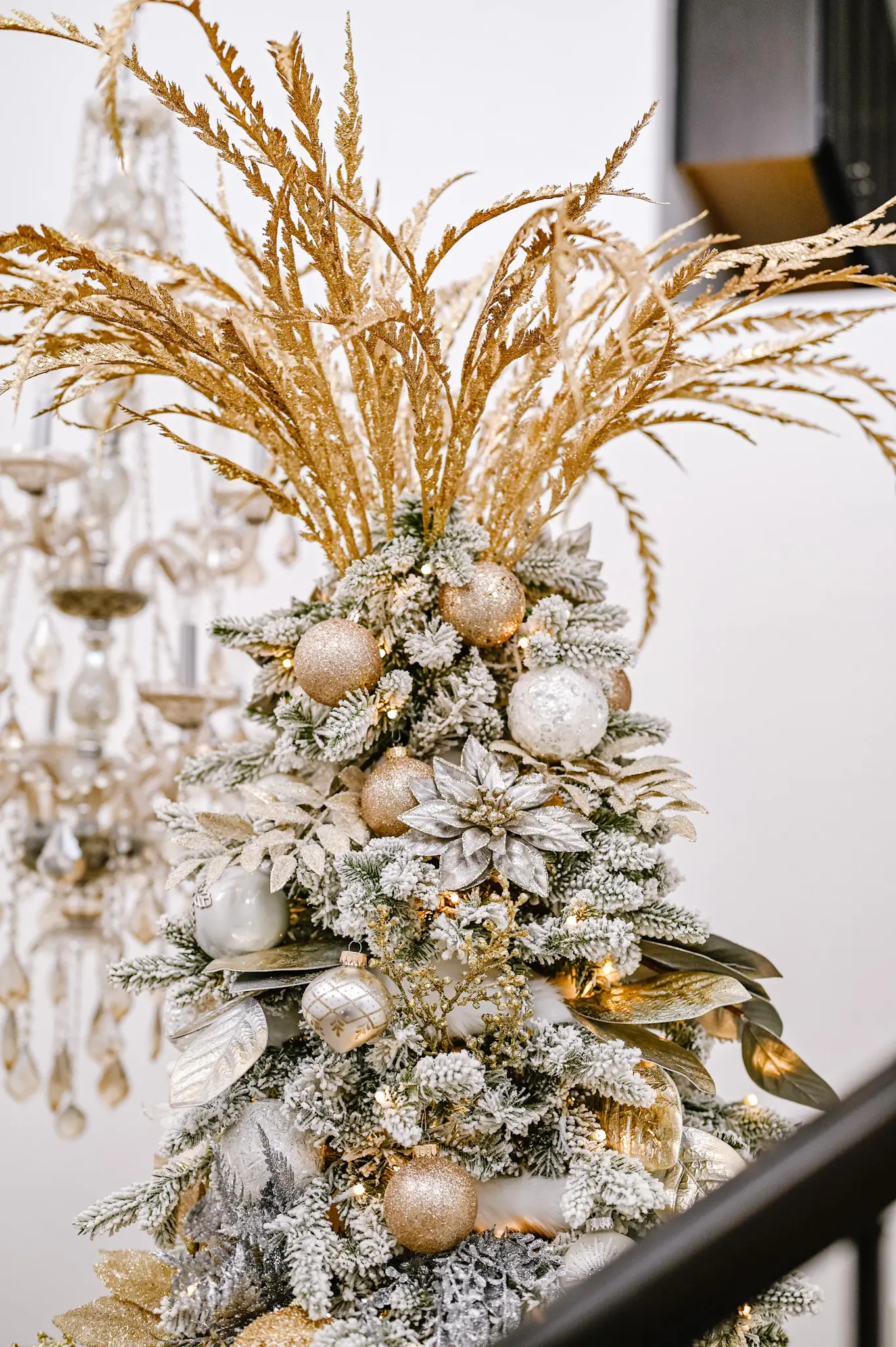 HOW MANY ORNAMENTS DO I NEED TO DECORATE MY CHRISTMAS TREE?

FOR MORE CHRISTMAS DECORATION IDEAS, CHECK OUT THE LINKS BELOW