This elegant and classic red, gold, and white Christmas tree post will help you create a designer-like Christmas tree to be a focal point in your lovely home this Christmas season.
Today, I am so excited to kick off the holiday spirit by sharing this year's elegant Christmas color scheme. Normally, I am a neutral Christmas decorator who tends to stray away from colorful ornaments or traditional colors. This year my goal was to do something different, so I added a pop of color, red!
Jump to: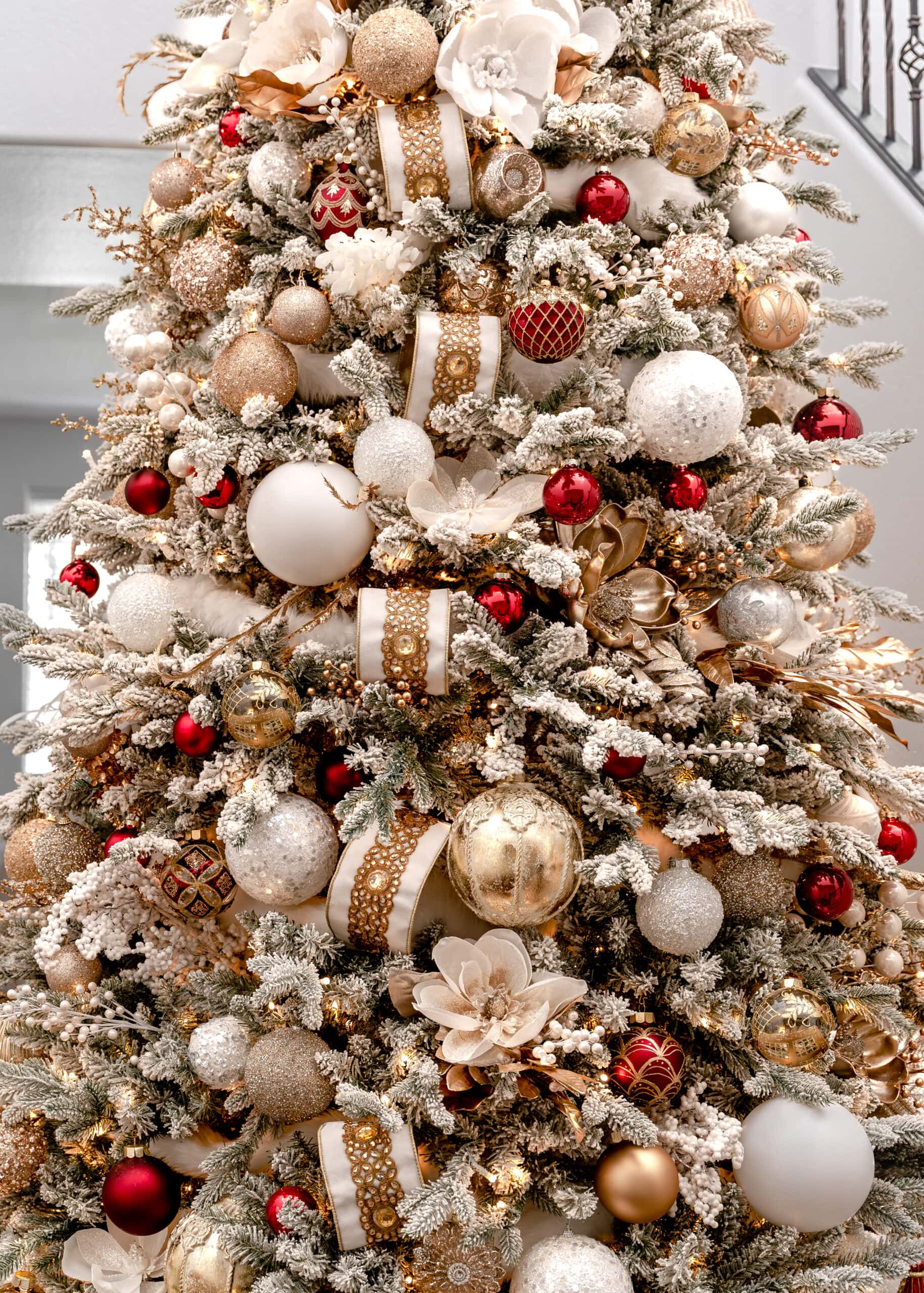 Every year we decorate two artificial prelit Christmas trees, one 8-foot tree that sits in our living room and a stunning 12-foot tree in our foyer. They both have white lights strung throughout, and a snowy flocked texture which makes a whimsical appearance on Christmas morning. I love seeing our white walls illuminated by both trees when the lights go down.
You'll notice I didn't add red flowers, red picks, or even red ribbons. This was intentional, to really showcase the new ornaments and have that pop of color be the focal point. Each gorgeous tree is decorated with the stunning Balsam Hill Brillant Bordeaux set, which is a mix of glass burgundy and gold ornaments. The etching and beaded accents make quite a statement and helped transform this year's color scheme into a masterpiece. For visual interest, we added mercury glass ornaments and white Christmas tree decorations to balance the color combinations.
You might recognize some of the white and gold Christmas decorations from last year. If this is your first year decorating, my suggestion is to start building a neutral ornament base for your tree. Invest in high-quality ornaments, picks, and florals that can be used for years to come, then you won't have to buy new ones every year. Once you have the base, you can add that pop of color to give your tree a new classic look.
If you would like a step-by-step tutorial on how to style your tree check out my post How to Decorate a White and Gold Chrismas Tree like a Pro which takes a closer look at customizing your Christmas tree. This post includes an ornament, floral, and pick calculator to help make decorating this holiday season that much easier.
For more Christmas tree ideas, check out my Glamorous White Gold and Silver Christmas Tree post, which showcases white and gold Christmas tree decorations mixed in with silver ornaments and florals.
Decorating an Elegant Red and Gold Christmas Tree
We start by adding a white fur-like ribbon to the outer and inner branches of the trees which gives a whimsical snowy appearance. You don't have to apply the fur ribbon to every branch, but start at the base of the tree and work your way toward the top. It's small elements like this that give the trees a warm feel. After the fur ribbon is applied we then add faux flowers and picks. Winter white Christmas flowers and metallic gold magnolias cascade down the trees adding depth, and character. To that, we add gold bay leaf stems and pearl white berry picks. You want to create a look of fullness while keeping symmetry in mind.
Now it's time to add the ornaments, starting with the largest and ending with the smallest. It's important to anchor your tree with a series of cohesive ornaments throughout, so make sure to space out the colors. Once the ornaments are disbursed, add the tree topper. This year we used a mix of gold leaf stems and pearl picks.
Finally, the star of the show! Add a showstopping gemstone white and gold ribbon. You could also use a red ribbon, but I want I didn't want to take away the focus from the red ornaments. Most methods recommend adding the large ribbon before the ornaments, but adding the Christmas ribbon last is an easy way to fill any gaps that remain while showcasing the ribbon more prominently. There are many inexpensive ways to decorate a Christmas tree, but investing in a high-end ribbon is a great way to give your tree a sophisticated designer look. The final touch to complete the look is adding a lush white faux fur tree skirt underneath the tree.
Christmas Decorating Tips
Push smaller ornaments into the tree. Smaller plastic ornaments toward the top of the tree can be placed and secured into the tree without hooks.
Divide the tree into sections. Here is a step-by-step post on how to decorate your Christmas tree in order.
Fill large gaps. The larger the tree the more space you will have to fill, which can be filled with fur ribbon and larger picks.
Color coordinate. Coordinate gift wrapping with the theme or color palette of the tree for an overall cohesive look.
It's all about the ribbon. Invest in wired designer ribbons for a sophisticated look.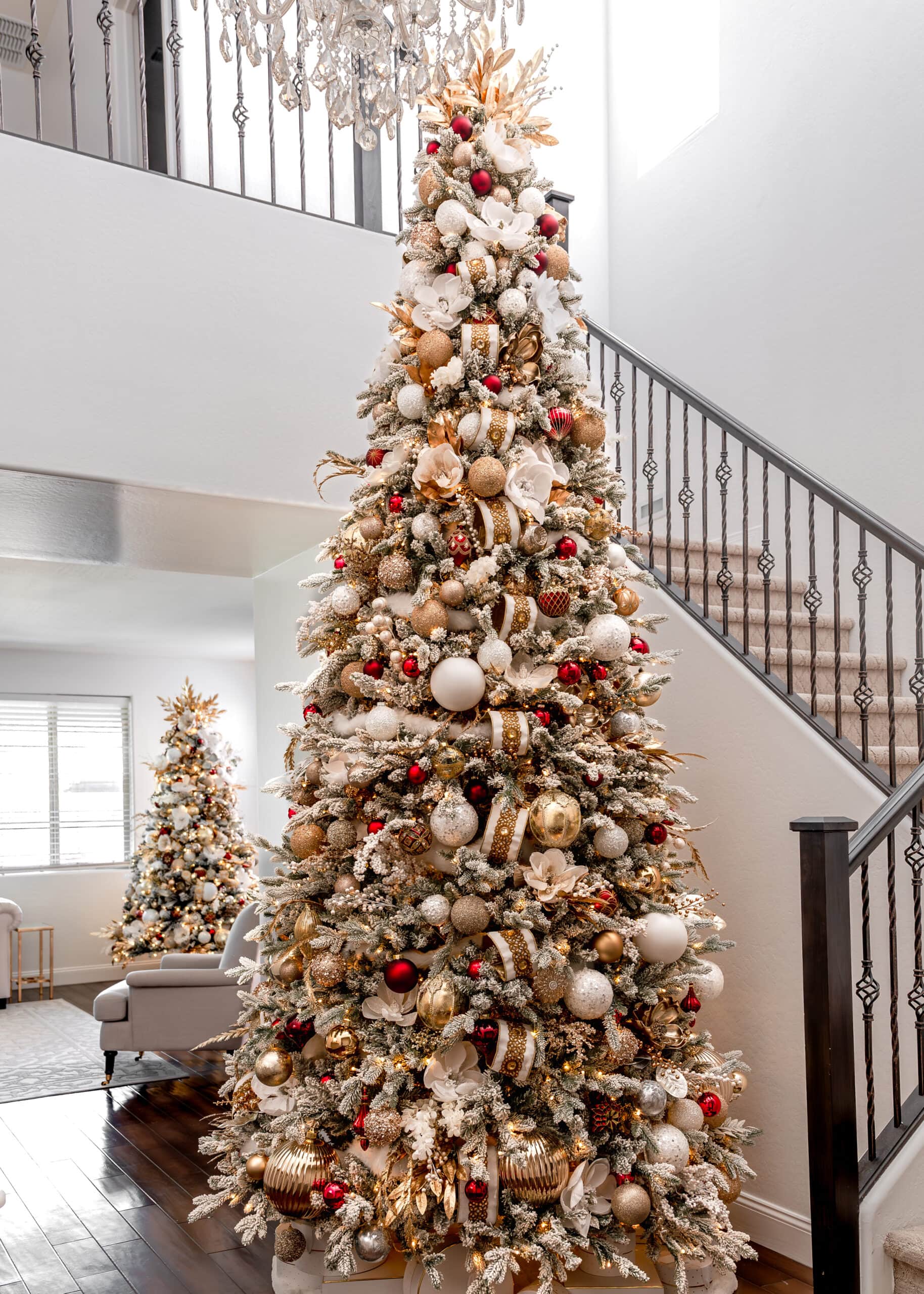 And there you have it!
I hope you enjoyed this year's Christmas post and that it will spread some holiday cheer in your home too.
Happy Holidays!
FAQ
Do red ornaments and gold ornaments go together for Christmas?
Absolutely! Red and gold Christmas tree ornaments give a traditional and classic look. 
What colors go well with red and gold Christmas ornaments?
You could use a neutral champagne color, silver, white, and metallics to help weave together the red and gold decorations.
When should you put up Christmas decorations?
The majority of people recommend decorating for Christmas after Thanksgiving, but I say any time after November 1st is good. If you are going to invest this much time decorating you want to be able to enjoy your work. 
When should you take down your Christmas decorations?
New Year's Day or within the first week of January to welcome the new year. 
What kind of flowers to put on a Christmas tree?
I love using magnolias, but you can also use poinsettias, roses, hydrangeas, or peonies.
Shop This Post